It's time once again for the 12 Bars of Christmas Pub Crawl!!
December 15, 2017, Ybor City
Starts at 7:00pm at Cigar City Cider & Mead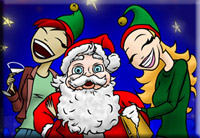 The 12 Bars of Christmas pub crawl started nineteen years ago when a few friends were out drinking and decided to see if they could make it to twelve bars in one night. It became a tradition as great things often do and eventually was put to good use raising money for charity. The original pub crawl began in Ybor City and after some years of crawling elsewhere we have returned to our roots. It's an open invite so feel free to include anyone you'd like. Hats and mugs are only available to the first 125 registered!
How Much?
A $20 donation per person gets you this year's Cup and Christmas themed hat which are required for the bar specials. If you register and pay online before December 1st it's only $17! Payment is accepted via Paypal on the "Register" page.
"We grant the wishes of children with life-threatening medical conditions to enrich the human experience with hope, strength and joy." — Make-A-Wish® Mission
Questions or Comments? Contact us at