It's time once again for the 12 Bars of Christmas Pub Crawl!!
December 4, 2015, Ybor City
Starts at 7:00pm at Ybor City (TBD)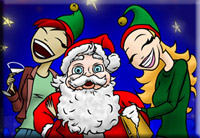 The 12 Bars of Christmas pub crawl started seventeen years ago when a few friends were out drinking and decided to see if they could make it to twelve bars in one night. It became a tradition as great things often do and eventually was put to good use raising money for charity. The original pub crawl began in Ybor City and after some years of crawling elsewhere we have returned to our roots. It's an open invite so feel free to include anyone you'd like. Hats and mugs are only available to the first 100 registered!
How Much?
A $20 donation per person gets you this year's Cup and Christmas themed hat which are required for the bar specials. If you register and pay online before December 3rd it's only $17! Payment is accepted via Paypal on the "Register" page.
This year's net proceeds from the 12 Bars of Christmas will go to The Elk Institute for Psychological Health & Performance
The Institute specializes in psychological trauma (PTS, PTSD) in the military population but is also equipped to address general psychological health issues as well.
The Elk Institute for Psychological Health & Performance is a non profit 501(c)3 that was established to provide individual and group education, consultation, treatment, and clinical research service to the military and veteran community locally, nationally and internationally. The Elk Institute is based in Tampa, Florida but provides remote on-site services around the globe.
Questions or Comments? Contact us at